Tia's ultimate hack to bag more Spanish training days
GB's top female padel player Tia Norton has found the ultimate hack for training in Spain post-Brexit. And it's all thanks to her grandma and grandpa! RJ Mitchell has the exclusive…
Increasingly frustrated with post-Brexit red tape limiting her to just 90 days out of every 180 at her Barcelona training camp, Tia has come up with a perfect solution – she's on the cusp of gaining Irish nationality.
Tia's maternal grandparents, Rita and Paddy Taylor, hail from Cork, allowing the 20-year-old to apply for an Irish passport and with it unrestricted movement within Europe and valuable time with her Spanish coach Juan Alday, who trained former World No 1 Marta Marrero.
Intriguingly this would also allow her to play for Ireland in international competition although Tia admits that would be a long shot.
This has given me such a big opportunity. Spain is the place to be for padel and it could be a real game-changer for me in 2024.
Tia Norton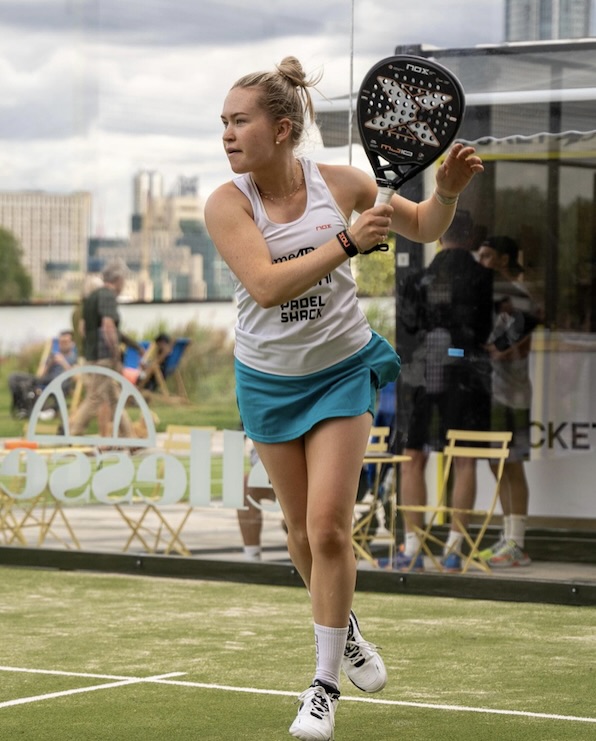 Following a quarter-final placing at the FIP Rise Stratford over the weekend with Dutch partner Rosalie Van Der Hoek, the news that her impending repatriation will considerably boost her padel prospects in 2024 has left the GB international looking forward – with her new Irish eyes smiling!
Speaking exclusively to The Bandeja Tia said: "After Brexit I could only spend 90 (of every 180 days) in Spain to train but with becoming an EU citizen I am free roaming! This has really given me such a big opportunity. Spain is the place to be for padel and it could be a real game-changer for me in 2024.
"My grandparents Rita and Paddy are from Cork – I owe them a lot for this opportunity which is massive for me in terms of my training and development next year. It does require me to send off my British passport so I will have to be in the country for an extended period of time while that happens and we will get that done shortly."
When it came to any prospects of a change of padel allegiances Tia was quick to reassure her GB fans: "It will mean that I can now play for the Irish padel team but my eyes remain set on GB," she laughed.
Reflecting on the FIP weekend just gone, which saw her make the quarter-finals with Rosalie Van der Hoek where they were beaten 2-6, 2-6 by Maaike Betz and Marta Ganzalez Nino, Tia admitted that her UK return to competitive action after being sidelined by tendonitis in her left knee had been invaluable.
She said: "It was really good to be back after quite a long time off. I did play a tournament with Aimee Gibson in Spain a couple of weeks back but the tournaments in England are the ones I really look forward to.
"In the first match against a French/Portuguese pairing we lost the opening set and maybe struggled for rhythm but then we got back into it and won the next two sets pretty comfortably. This was also my first tournament back with Rosie (Rosalie) in a few months and we needed to get used to playing with each other again.
"In the quarters it didn't go as planned and to be fair our level was not what it should be and Maaike Betz and Marta Ganzalez Nino really took advantage of that and let nothing slide. So we weren't overly happy with how that went but overall it was just great to get back on court together."
Despite five all-Brit pairings lining up in the first round, only Jo Ward and Helen Crook made it into round two where they lost in straight sets to the Dutch pairing of Groeneveld and Luttikhuis.
GB No 1 Aimee Gibson and French partner Elodie Invernon lost out in round two to the Portuguese/French combo of Caterina Vilela and Carla Touly who finished runners-up.
Next up for Tia is a trip to Kuwait on Wednesday: "Rosie and I are playing in Kuwait at the FIP and will look to build on Stratford over there. Kuwait will be great to get some winter sun which I'm looking forward to although the event is indoors. Then it's the Grade One at Padium (Canary Wharf, London) followed by an invitational in Finland which is called 'The Padel Christmas Games'. I played it last year and really enjoyed it and it's a friendly exhibition tournament to end the year nicely. I'm playing that with Aimee Gibson."
Meanwhile in the men's event at Stratford of the seven pairings with British interest involved only two made the second round.
Sam MacNeil and Rafa Vega Otaolaurruchi losing out 2-6, 0-6 to Spanish third seeds Arbona and Lores while Alfonso Pitacho and Chris Salisbury were dispatched by another Spanish pairing, Bellmunt and Font on a heart-breaking third set tie-break 9-11. 🎾