Rose gears up for WOSP weekend
GB padel international Catherine Rose has admitted that points make the perfect prizes as she and partner Aimee Gibson prepare to go for glory at this weekend's LTA British Padel Tour Grade 1 Scottish Padel Championships. RJ Mitchell reports.
The Rose/Gibson partnership is blooming, with the former positioned at No 6 in the latest LTA rankings and her partner sitting at No 5. Yet as she projected forward to the forthcoming action at West of Scotland Padel, Catherine admitted it is a big weekend for her top seeded partnership with Gibson.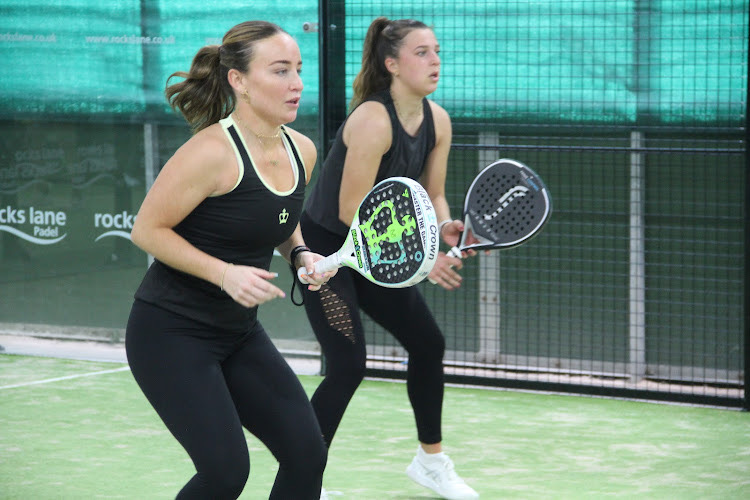 "It's very important to keep getting the points and secure my spot towards the top of the GB rankings," Catherine said. "The prize money is good but the importance of playing competitive padel is massive. When we played the FIP Rise at Rocks Lane recently we found we were coming up against levels of players we don't often get to compete against.
"Aimee and I drew the top pair in Japan and it was one of these matches where we felt we should have won it and not just taken a set.
"That is the whole point though, we haven't been in these type of positions where we are one set each and a break up the whole of the third set and we just didn't see it through. It was a real tough loss as it felt very winnable.
"It underlines that competitive match play is really important. We have Laura Deigman and Amy Cairns up first this Sunday and we know that the No 2 seeds Mercedes Perez Gonzalez and Maria-Christina Balatsouka will be really tough, as will another Scottish pairing of Meghan Montgomerie and Rachel Scanlan. These will provide us with more tough matches. More opportunities to play competitively is very motivational."
Catherine is just back from a training camp at the Reserva Club, Sotogrande, where she trained with GB men's international Frankie Langan, paying special attention to her forehand/forehand volley. She is hungry to put it into practice as her partnership with Aimee develops.
"Aimee and I are both on the same page and we want to take it a bit more seriously, train and play FIPs. We enjoy playing together and are very good friends off court as well. The nature of padel is that you bond when you are competing together. The European Championships in October are a big target for us."
However, Catherine acknowledged that with more players now in the mix, the GB team could change 'quite a bit' from that fielded for last year's World qualifiers at We Are Padel, Derby: "Nobody's spot will be secure, there will be a lot of options for Alvaro (Fernandez Guerrero, Head Coach GB Ladies) and Max (Lutostanski, Assistant GB Ladies coach) to pick from," she said
When it comes to training base preferences Catherine, who plays out of Chelsea Harbour Club where she wascrecently placed second with Lila Simpson at the LTA Padel National HOP CHC event, admits that warm weather definitely helps.
The UK padel star said: "100% it's brilliant to train out in Spain as being a British player who has just started you come up against Spanish players who have been exposed to the best training, the best facilities and all that in great weather. To go out there and train alongside them is fantastic and definitely a level up in terms of professionalism."
Looking forward to tournaments post Scotland, Aimee has her sights on the NTC, Guernsey Padel Club for a Grade One and, potentially, 'a couple of' FIP tournaments.