MRH Sport partners with Bullpadel for UK & Ireland
Bullpadel has consolidated its position in UK and Irish markets after partnering with London-based multi-sports distribution company MRH Sport.
MRH Sport was founded by Max Holloway and R3-Sport earlier this year. R3-Sport is owned by Jonathan Rowland and GB padel player Nikhil Mohindra.
Max brings a decade of brand experience with Babolat and more recently as Category Director for adidas Padel in the UK. He said: "MRH Sport is excited to announce its partnership with padel specialist equipment manufacturer Bullpadel and eager to open the brand up to the wider consumer as it joins the UK and Ireland padel journey."
With an estimated total padel racket market size of 30,000 units, MRH Sport considers the UK and Ireland is still 'relatively untouched'.
"There are approximately 350 courts built currently thus offering huge growth potential of somewhere between 15-20 times where the market is today," added Max.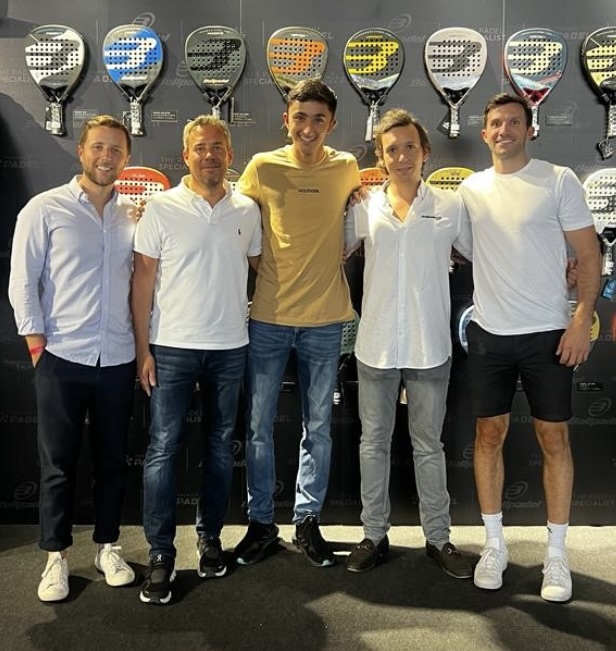 Technology
With a 25-30% global market share, Bullpadel is a leader in racket innovation, bringing high performance products to consumers, from beginners through to FIP and the World Padel Tour. Whether it is a durable entry racket for the newbie or the pinnacle of racket technology for the elite player, Max believes Bullpadel offers best in class.
You will see Bullpadel used by many of the top male and female professionals, who currently have the biggest share of players inside the World Top 20 respectively. Sponsored players such as M Di Nenno, F Paquito Navarro, F Chingotto, J Tello and G Triay, A Salazar, D Brea, S Araujo and C Jensen.
Originating in Spain, Bullpadel is the oldest native padel brand, acquired by padel specialist Aguirre y Cia in the early 2000s.
Bullpadel 2024 products
The Bullpadel experts have collaborated with elite players and coaches, extracting play data from Tour players to create the best products. The new Bullpadel collection includes the new Vertex 04 racket, the highlight of the 2024 collection. With its technical innovation the new model will be +10% more reactive, have a +8% larger sweetspot, +23% more aerodynamic and -38% less vibration. 
The performance racket selection is led by two distinct racket franchises, Vertex and Hack. Vertex offers most versatility, providing a balance of control and power, whereas the Hack is for the more aggressive power player. Both models are available in a diamond shape, giving more power with a higher and condensed sweetspot, or hybrid shape, providing more feel and control due to the lower, more centralised sweetspot.
Bullpadel Elite and Flow models combine technical excellence with a classy finish, perhaps best suited to female players due to their lighter weight and comfort. Both are used by current World No 3 and No 4 pair Gemma Triay and Alejandra Salazar.
Choosing your racket
Padel racket quality differs simply by the composition of each racket. An entry level racket of £80-£120 will be made up of fibreglass, with some structural reinforcement around the throat as you spend more. In the mid-level, normally circa £150/£170, you will start to get a blend of fibreglass and carbon fibre. Performance models of £200+ will consist of high grades of carbon fibre composition. In each instance as the racket composition improves, the racket in turn gets stronger, offering more durability and better user playability.
Why the price?
The price is relative to the performance you expect from the racket, and ability of the player. As you spend more, the durability, rigidity and responsiveness of the racket all improve. So, as you play more often and your level improves, the additional control, power and stiffness are all benefits to improve your game. 🎾