Viva Las Vegas!
In March 2022 the GB ladies senior padel squad was preparing to leave for Las Vegas to participate in the FIP Seniors Padel World Championship.
It was a huge tournament for the ladies – their biggest to date – and a long time in the planning, including a six month delay due to the pandemic. There was, therefore, much jubilation amongst the 450 players, men and women from 18 nations, who gathered to compete. Team Captain Sally Fisher reports.
The competition got off to a hopeful start for the GB Women's team with a favourable draw for the initial group round robin phase. The GB women were drawn in Group C and so would take on Portugal, Germany and Denmark for a place in the play-offs.
Ten women, ranging in age from 36 to 58 years and selected from across the country and the British diaspora in Spain, made up the GB Women's team, which was led by myself and Vice Captain Libby Fletcher. Just a few weeks before the team travelled to Las Vegas it had announced that Nigel Garton, a former World Padel Tour player and now of Middlesbrough Padel Club, had agreed to be the GB Senior Women's National Coach and had led a final weekend's training camp for the team and given clear tournament play instructions to enhance their performance in Las Vegas. The training and matchplay tips proved to be instrumental in the team's performance.
The GB women got off to a flying start, winning all their matches in the first three days of the championship, beating Denmark 2-1, Germany 3-0, and Portugal 2-1 to finish top of Group C and so move through to the play-offs for 1st-8th positions. 
Claire Smith and Karen Hazzard were the 35+ pair, winning every match except one during the whole championship. Despite being a new partnership, their playing styles worked well together, their on-court communication was effective and both of them played exceptionally well in every match. A truly world class level of consistency and ability to quickly shift from defensive to offensive play made them a much feared pair.
Anthea Hunt and myself were the 40+ pair and, with a strategic decision to play this pair in the younger age category than their actual ages would have permitted, they both played well, making the most of their fitness and speed around the court in three closely fought matches, beating Germany on the second day of the tournament.
Libby Fletcher and Elvira Campione were the 45+ pair and quickly formed a very effective partnership, in which their years of experience and natural talent enabled them to confidently win hard-fought matches against Denmark, Germany and Portugal.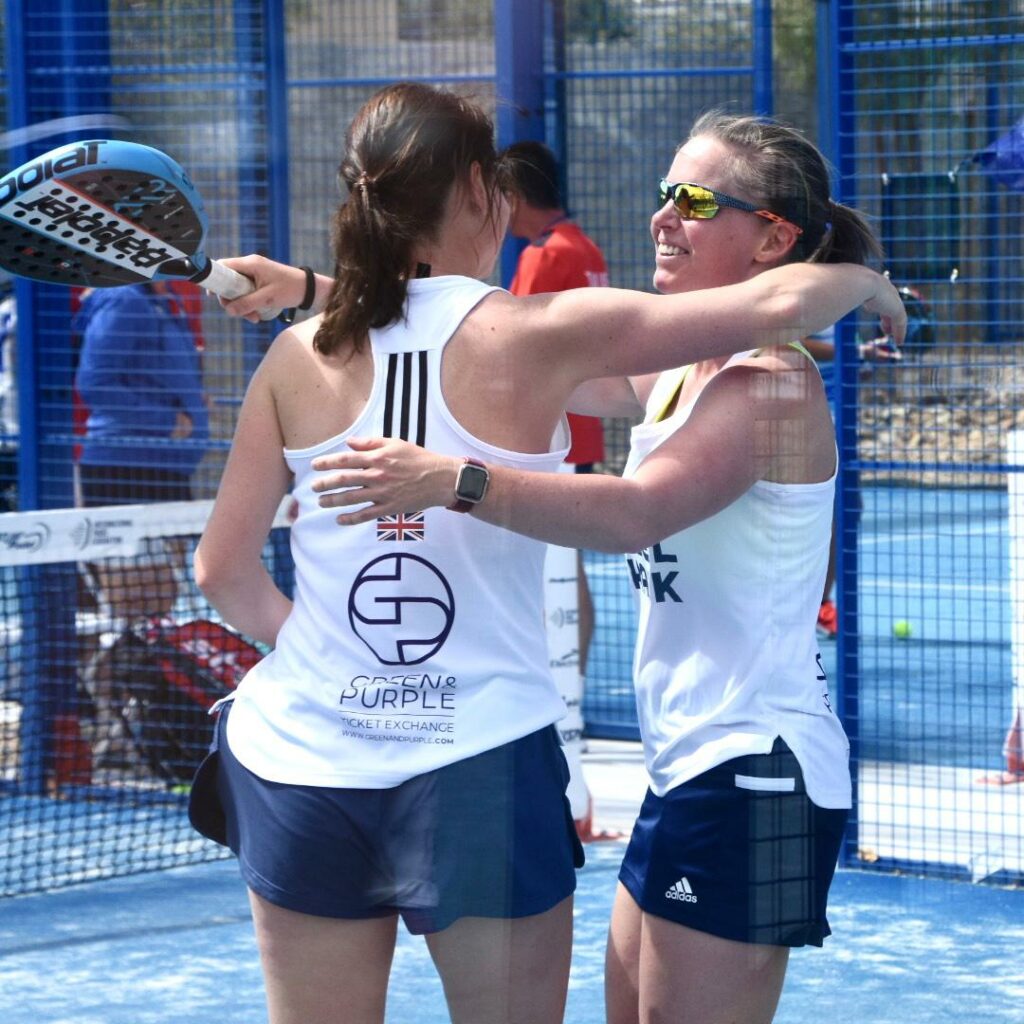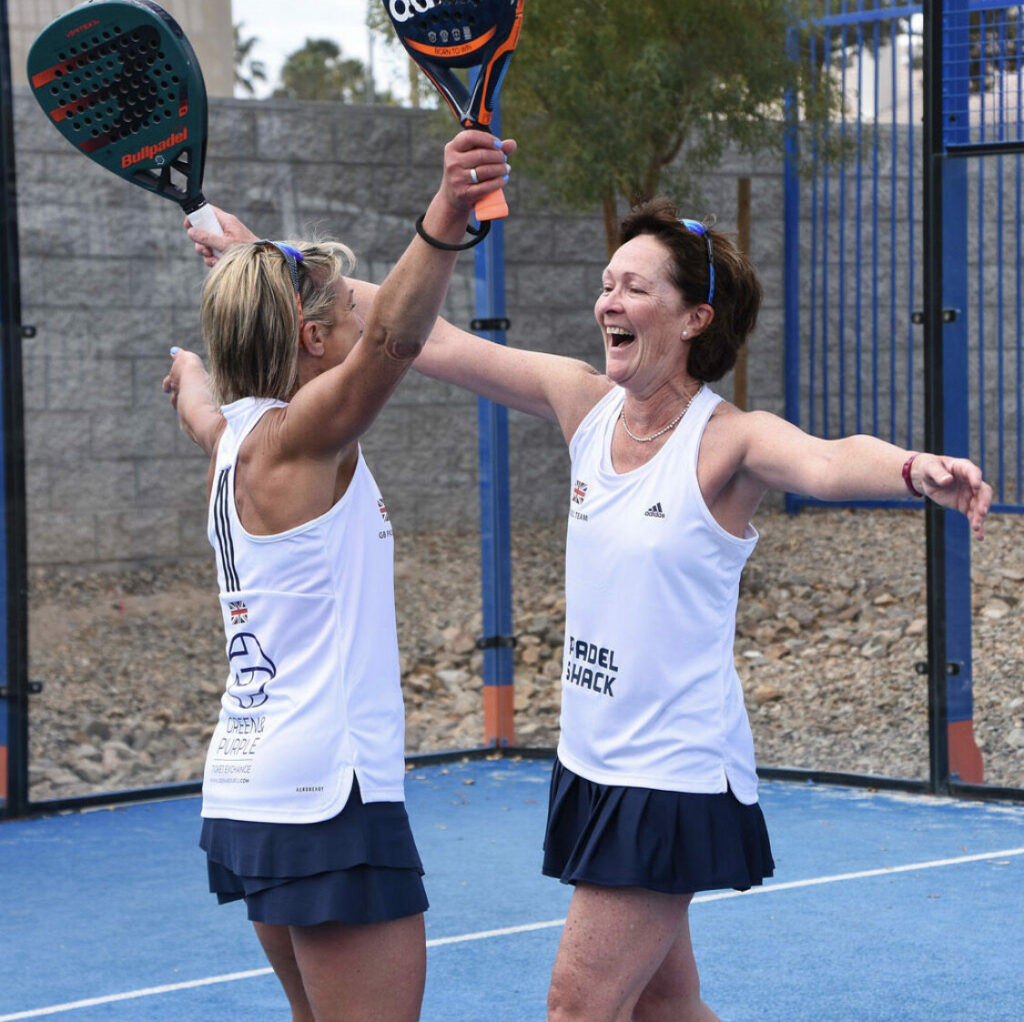 During the early days of the championship all team members also played in the National Pairs World Championship, with Sarah Thomas and the left-handed Maria Pylas rapidly forming a highly effective and consistent partnership to beat an Australian pair in their first round of the 45+ National Pairs. They lost in the second round to a very strong Portuguese duo. Steph Trill and Ro Tott played a Chilean pair in their first round and won their first set. However, the experienced Chileans came back strongly and took the second set and the third set to championship tie-break.
A highlight of the week for many of the team was watching GB's Claire Smith and Libby Fletcher beat a seeded Argentinian pair in the 35+ National Pairs in a closely fought match that showcased some outstanding padel play under the floodlights. Having received a bye through the first round, this win took Claire and Libby into the quarter finals, where they were narrowly beaten by a long-established Italian pair.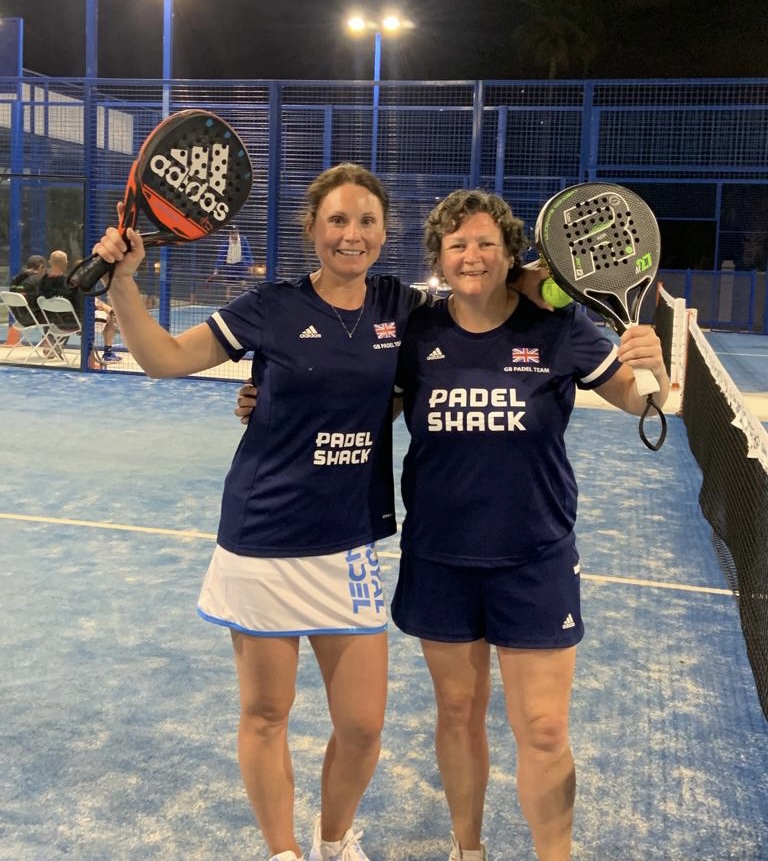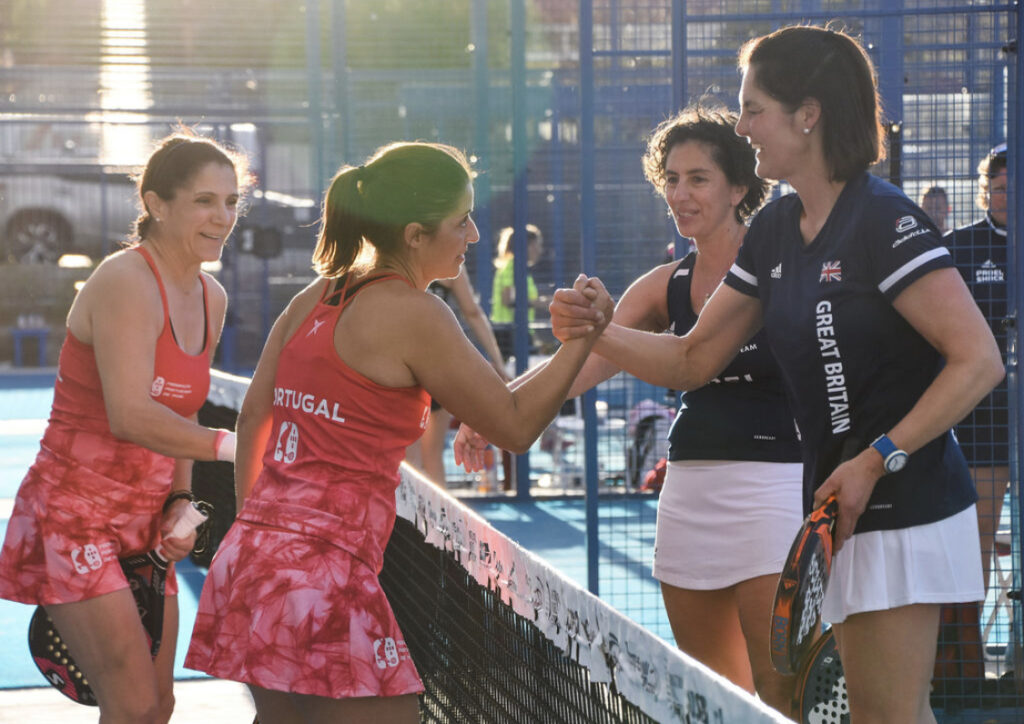 Back to the GB Women's team competition and, having won their group, the team was now playing in the 1st to 8th position play-offs. Their first match against the renowned French team was a wonderful experience for Claire Smith/Karen Hazzard in the 35+ category, Sally Fisher/Steph Trill in the 40+ and Libby Fletcher/Elvira Campione in the 45+, who were all stretched and fought hard, but were unable to bring home a victory, losing to France 0-3. The following day's match against the USA was another fantastic challenge which produced a nail biting win from Claire/Karen in the 35+ category in a third set tiebreak, and hard fought losses from Libby/Elvira in the 45+ and Sarah Thomas/Steph Trill in the 40+. The final match of the championship was a re-match against Denmark which GB lost 1-2 in a tight and hard-fought game which showcased some excellent padel once again.
Anthea Hunt, commented on the week, saying: "What an awesome experience! Some great team spirit and leadership by Sally and Libby and coaching support from Karen as well, got us through to a very respectable 8th position." 
Claire Smith said: "My first experience of a Padel World Championship was incredible. It was fantastic to see and play against some really quality players. An excellent learning experience which has inspired me to continue to improve my game. Being part of a very supportive GB team made the experience all the more fun and enjoyable."
Vice Captain Libby Fletcher, who (together with Karen Hazzard) was also the team's fantastic court-side coach, commented: "As a relatively new country to padel, it was an amazing experience for me to compete for GB at such a high level against teams from around the world. There was a fantastic atmosphere at the event and as a team we battled through some tough matches and achieved a great overall result. Padel is growing in the UK and our successes in Vegas have inspired us to continue to build a women's team for the future."
The GB women's team delivered a week of fantastic results and excellent performance to secure 8th place, the highest placing a GB Senior Team has achieved….so far! Their sights are now firmly set on the 2023 FIP European Championships!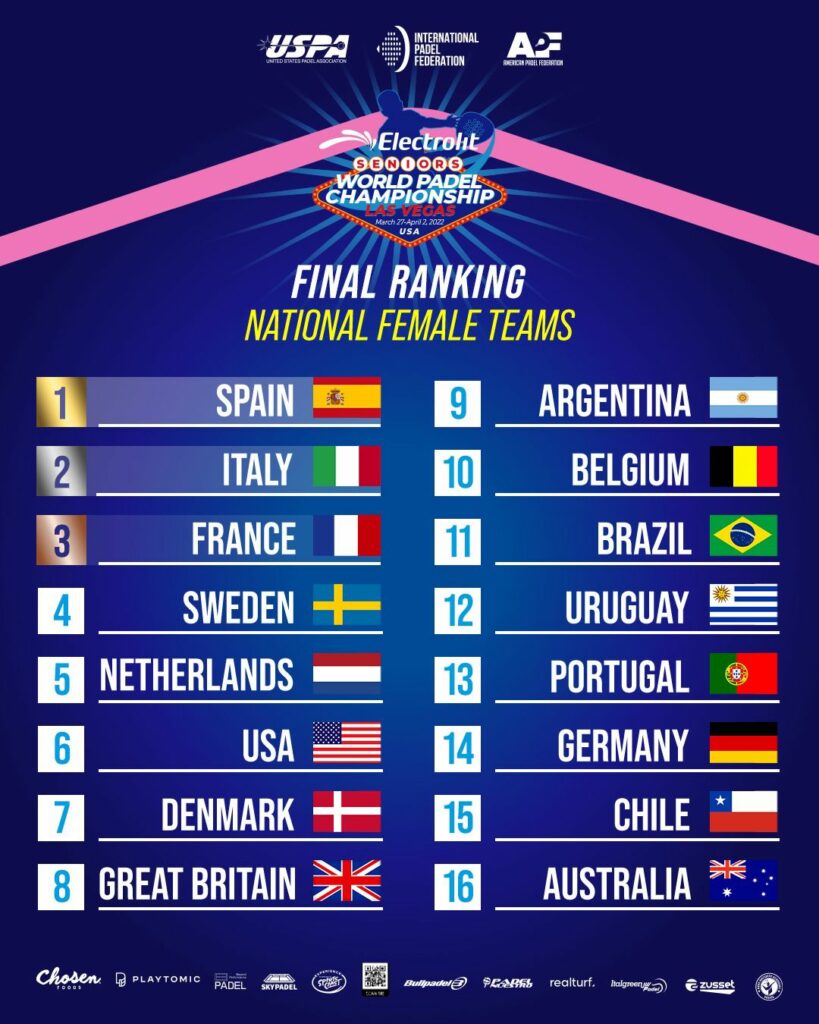 The squad holds selection events each year for LTA Grade 1/2 players aged 45yrs+. Follow its Instagram account to find out more.