FIP Rise Rocks Lane: Learning curve for GB men
by RJ Mitchell, Chief Writer
GB Men's National coach John Leach has called the FIP Rise Rocks Lane tournament a learning curve for his players.
Of the six male pairings which included a British competitor, Sam Jones' partnership with Iago Gonzalez was the most successful in making a quarter-final run where they were beaten over three tight sets by No 2 seeds Navas and Chamero.
GB No 1 Christian Medina Murphy's pairing with Alberto Garcia Jimenez did progress to the second round only for Navas and Chamero, en route to the final, to snuff them out 6-3, 6-0.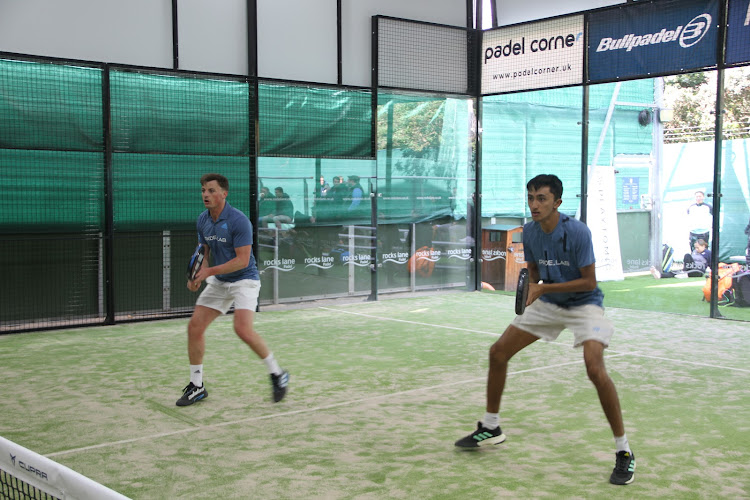 Taking stock, John said: "Overall in the GB men's set up we have got to be looking to make semi-finals and beyond in these events and that is something that the players must focus on to get deeper in these tournaments on a regular basis. In this respect in many ways it was a learning curve.
"I think probably Sam stood out in terms of his performance but we had Christian doing a good job and Louie (Harris) is making headway in these events but we need all of the guys playing as many tournaments of this quality as possible and going as far as they can and learning from these experiences.
"Overall though Rocks Lane was run very well. We did have rain on the first day but the courts were covered and the players were very happy with the event," added John.
"We have tournaments in Sweden and France coming up and we will see how their schedules shape up but Rocks Lane has provided some real learning experiences for the guys and they need to make the most of these."
Looking at the fortunes of his charges in more forensic detail, Leach applied the microscope: "For Christian and his partner (Alberto Garcia Jimenez) they have a relatively new partnership formed towards the end of last year and one which has already had some very positive results.
"I am happy Christian is continuing to compete with the same partner as that makes a huge difference to your results in the long term when you are really settled. It was good for them to get the win in the first round against a solid Spanish pairing but a tough match for them in the second against No 2 seeds Chamero and Navas.
"I didn't see that one as I was taking care of Sam Jones' match. Richard (Brooks) was keeping an eye on Christian and he said afterwards that it was really high level and Christian was happy with his performance and his attitude was first class.
"In terms of Sam (and Iago Gonzalez) they did really well and I was very happy with the way Sam played. I didn't know his partner but Sam has been working with him in Madrid and they've played practise matches there with no tournament match time.
"They had two really good victories to make the quarter-finals and pushed the second seeds into a third set and had opportunities at the beginning of it. Sam kept a good level throughout and stayed strong mentally. Out of all the players he stood out."
Louie Harris, partnered with Portuguese Henrique Barbosa, lost 7-5, 6-2 in a tough first round draw with the No 7 seeds Sotillo and Mercadal and, as John admitted, they had their chances: "I was on the side for that match and it was a really tight one and they had opportunities to take that first set but their opponents were just that bit stronger in the really tight moments.
"In terms of a progress perspective for Louie and his partner it is learning to compete in the key moments and that is where we have to close the gap."
Team GB veteran Richard Brooks was unable to repeat his recent glory run at We Are Padel Derby as he and partner Mario Cerezo were disappointingly dismissed in straight sets 6-2, 6-2 by a Portuguese pairing while Nikhil Mohindra and Frankie Langan also lost heavily in straight sets in the first round. As did Alfonso Pitacho and Chris Salisbury.
Reflecting on all of this John said: "It was a bit of an eye-opener for them as what you are getting now is these top quality players dropping down to play in FIP events and the standard is just really high.
"Hopefully all of this experience installs a bit of understanding of what is required at this level as what we had in many cases was moments in each match where we had taken hold of the situation and let it slip. With more control of these tight situations some of these results could have been different," added John.