Young Ukraine tennis trio shine at padel tournament
Three young Ukranian tennis stars took to the padel court for the first time in a charity tournament raising funds for the Ukraine Tennis Project.
Organised by OLA Padel at Imber Court, Surrey, the girls – Kateryna, Anastasia and Veronica – wowed fellow players with their talents, with OLA founder (and former pro tennis player) Jack Carpenter describing their padel potential as 'enormous'.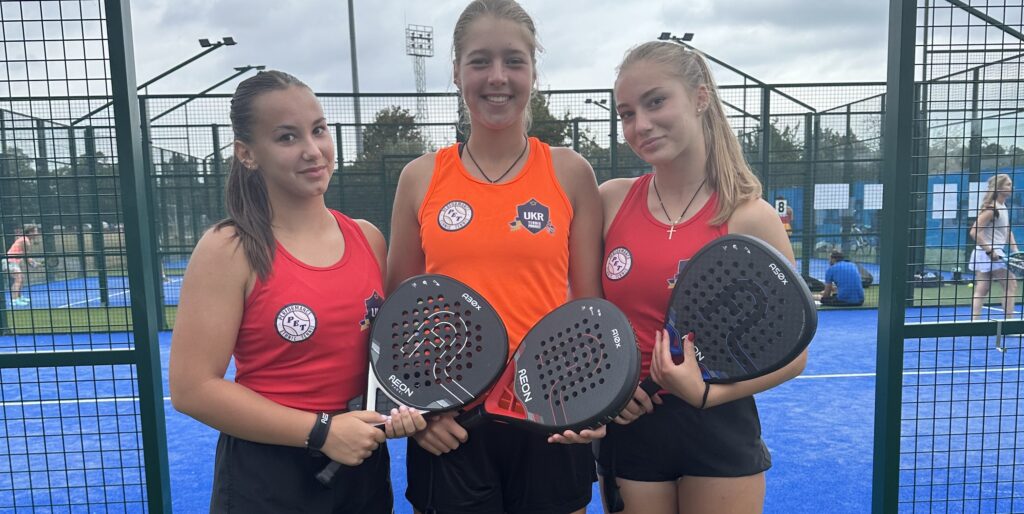 The trio relocated to the UK following the outbreak of war and destruction of the Ukraine national tennis centre. They've been sponsored to train in safety at the Delgado Lee Tennis Academy, Bisham Abbey.
Jack added: "They took a day off tennis training and headed over to Imber Court to try their hand at padel for the first time. They mixed in with with all the other participants very easily and comfortably, showed great skills and humility but above all demonstrated how well padel helps to break down social or language barriers.
"If they ever decide they want to become pro padel players their potential is enormous, they were all absolutely brilliant and tested the most experienced padel players today with their aggressive vollies and touch," he said.
The event, sponsored by Aeon Padel, raised £700 for the Ukraine Tennis Project.
"We hope this may make a small contribution towards paying for some of the girls' tennis expenses," said Jack. "At OLA we are passionate about helping young people realise their dreams and ambitions and for these girls becoming top ranked tennis players is definitely in their reach."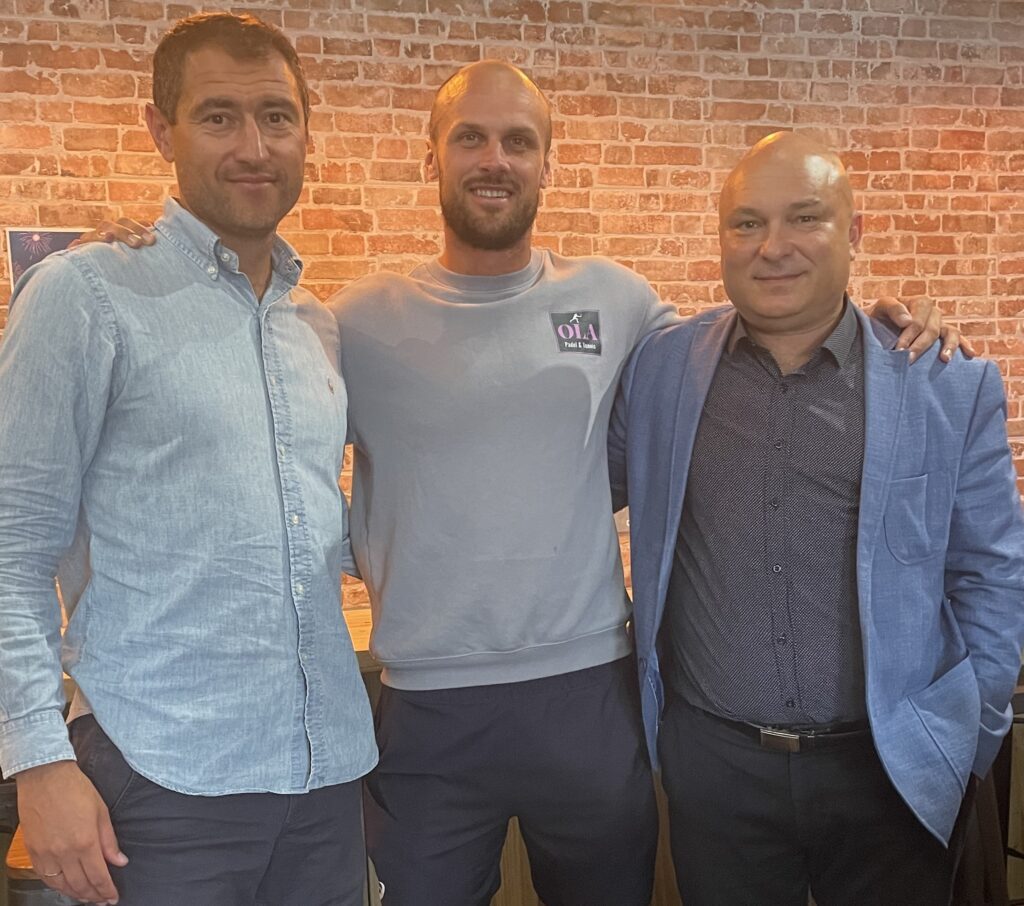 Evgeniy Zukin, CEO of the Ukrainian Tennis Federation, presented the prizes fresh off the plane from Georgia, where he had been supporting the Ukraine Davis Cup team to victory in their tie against Columbia. He said: "It's really hard for Ukraine tennis development back home at the moment as our training facilities have been destroyed and travel outside of the Ukraine to competitions is impossible. It is made possible by initiatives like this Ukraine Tennis Project which I am personally so grateful for – thank you OLA Padel for organising this event, every penny raised will help our top junior talents reach their personal and tennis goals during these difficult and sad times."
The tournament attracted some 50 players, including comedian Jason Manford, actor Richard Fleeshman, Johnny Delgado (manager, Delgado Lee Academy, founded by former tennis pros/coaches Martin Lee, Johnny and Jamie Delgado) and John Barclay, former professional cricketer. The event was supported by England Sports Group which provided a discount on court hire. Winners were Josh Fawsett, Niklas Johansson, Talia Rayner, Anastasia, Kateryna, Kristen Smith, Sara Levy and Kieron Tiddy.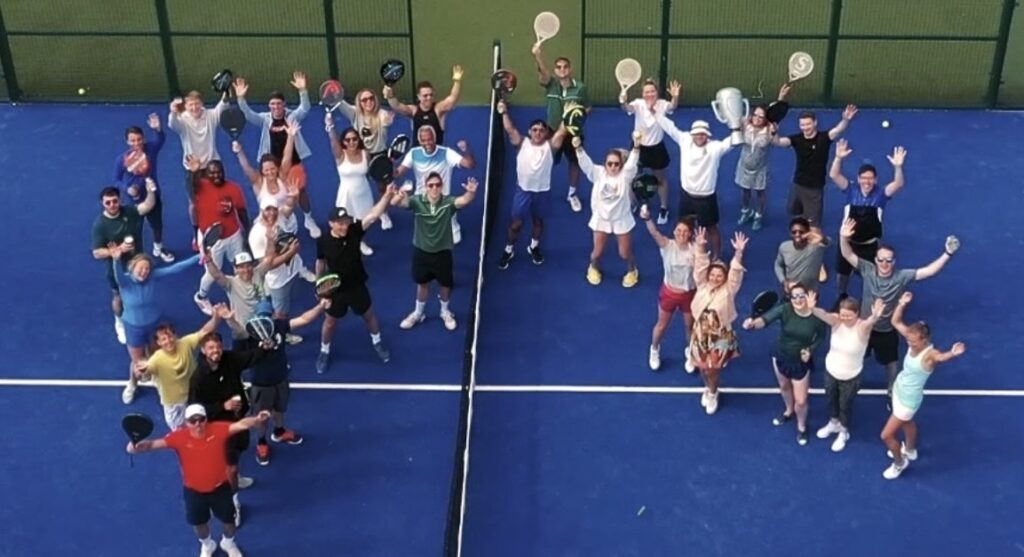 Johnny Delgado, from the Delgado Lee Tennis Academy, participated in the event. He said: "Huge thanks to OLA Padel for organising a great day in support of the Ukraine Tennis Project. It was great to see the girls welcomed with open arms by everyone and gave them a real sense of belonging in the UK, which is really important for them with everything happening in their homeland."
Speaking about the Ukraine Tennis Project he said: "The project offers a five year financial commitment to some of the top Ukrainian junior tennis players, giving them an opportunity to access a full time training programme with full board accommodation. We had more than 100 applications when we announced the launch of the scheme at the end of 2022 and have had the three girls with us full time since January. They have huge potential both as tennis players but more importantly as people and I feel these girls can really make an impact beyond just the tennis world."
Vsevolod Kevlych, Ukraine Tennis Federation board member and former agent of player Elina Svitolina, who reached world No 3, said: "The work of the Delgado Lee Academy and the Ukraine Tennis Project has offered a lifeline to these girls. On behalf of the Ukraine Tennis Federation thank you to everyone for your participation and support. It is heart-warming to feel so welcome in the UK and it is because of people like you that really make us feel part of a wider community here in England."
The players
Kateryna Chuieshova plays for the Ukraine in the 14 years and under age group and has recently picked up her first U18 ITF ranking points. She said: "Thanks so much OLA Padel for a great day and thank you Aeon Padel for my prize. I'm so happy to have won the bat, I love it and it's so nice to play with, it means I will play more padel in the future! Also, I want to thank everyone in UK who have been so kind to us since we moved here in January."
Anastasia Sorska players 15U and represented Ukraine in U16 age group. Since joining the Degado Lee Academy her ITF junior world ranking has increased from 2,300 to 543 (in just six months!). She said: "Thanks Ola for such a great day playing a new sport. I also want to thank everyone that has supported me during this time with everything happening back home, it has been great to be a part of the Ukraine Tennis Project and train in a professional academy. My tennis has improved so much, and my ranking!"
Veronika Kliuch is ranked No 2 in the Ukraine 16U age category and has represented her country, with a recent success in an U18 ITF event in Stirling, reaching the final of the singles and winning the doubles with Anastasia. She said: "I really enjoyed playing padel with everyone. I will definitely play again soon. Since I came to the UK in January I feel so lucky to be a part of this project. I want to become one of the world's best players and this chance to improve my tennis in the UK has been so perfect. Things are very difficult back in Ukraine at the moment, so the Ukraine Tennis Project has been so good for me." 🎾
The Ukraine Tennis Project is seeking further investment to offer more players the opportunity to live and train in the UK. To discuss sponsorship opportunities contact Jonny Delgado – jdelgado@livingtennis.co.uk – or 07511 948 296.