Young players rocket to victory at HOP Tour
By RJ Mitchell
HOP Youth Tour winners Barney Brown and Oscar Warneryd have admitted that their victory at Rocket Padel in Bristol recently has made them hungry for more.
The first ever adidas HOP Youth competition under-18 boys final produced a superb finish to the tournament, with No 2 seeds Barney and Oscar confounding the rankings to beat top-rated Aston Deva-Nix and Oliver Hayday 6-4, 6-2.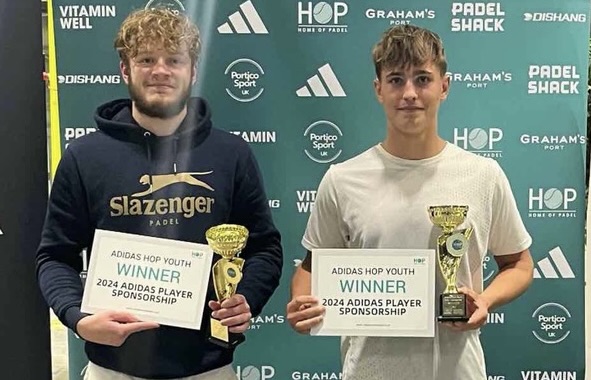 Oscar has also revealed the key to their success: "We played three matches in the under-18s and two in the HOP main draw and that really helped us build an understanding, really that was crucial.
"Now we just hope there will be more of these HOP Youth tournaments given we have won this the first time playing together. We can't wait until the next one whenever that is."
When it came to the importance of a being hailed the first ever adidas HOP Youth Under-18 Boys champions Barney was still on cloud nine after the duo's weekend triumph: "The first set was crucial as we were 2-3 down but we managed to find a way to turn it around and after we took that first set their heads went down so that was the key I'd say.
"It is really hard to find under-18 events so it was brilliant that HOP put this one on and it means a lot to be the first HOP winners in this category.
"It was our first time playing together and to come through and beat the top seeds was great. We were the underdogs and we made that work for us. To have the adidas sponsorship on top of winning is just tremendous."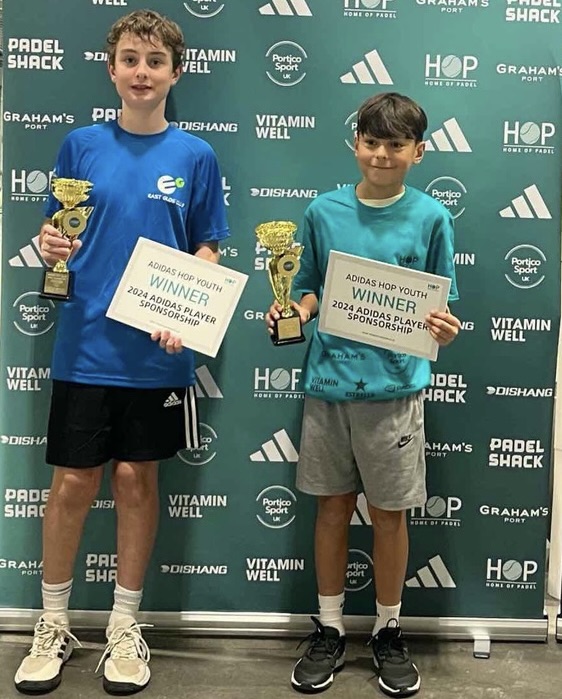 In the under-16 event there was an impressive victory for unseeded Harley Dixon and Andrew Dunn over second seeds Charlie Aldred and Ethan Holt 6-4, 6-2.
In the under-12s Ethan Holt partnered with Travis Barber to claim a fine 6-1, 6-2 victory over Josh Aggas and Jayden Toop.
Reflecting on the success of the adidas HOP Youth event HOP co-founder John Leach said: "The under-18s were at a really high level and Oscar and Barney were very powerful. It was just great to see these young guys out competing and they will have learned a lot from this weekend. Now we need these guys to kick on into the grade ones and twos and building on this.
"It was also just nice to see so many juniors playing and the comments we got from spectators was so positive and the feedback was that this was the first time they had seen all these juniors playing in a competition like the adidas HOP Youth." 😊