Win a 'hole-less' HEAD Extreme One racket
We love new padel product launches and this one is just about as exciting as it gets – the new HEAD Padel racket with just one hole (and that's only to satisfy FIP regulations). 
The new diamond-shaped HEAD Padel Extreme One is eye-catching and surprisingly light (345g) given the absence of holes. Its designers have worked hard to keep weight down and design a racket that delivers power, spin and great aerodynamics.
We've been playing with Extreme One and had great fun – we found it easy to adapt to, there's good spin capability and the absence of holes didn't create any obvious issues or distractions apart from a little breeze on occasion. For such a hi-tech new-launch we also think it's fairly priced at £230. Click HERE for more details.
And, thanks to the lovely people at HEAD Padel, we have an Extreme One racket to give away to a lucky The Bandeja reader. To enter this competition simply subscribe to our newsletter HERE.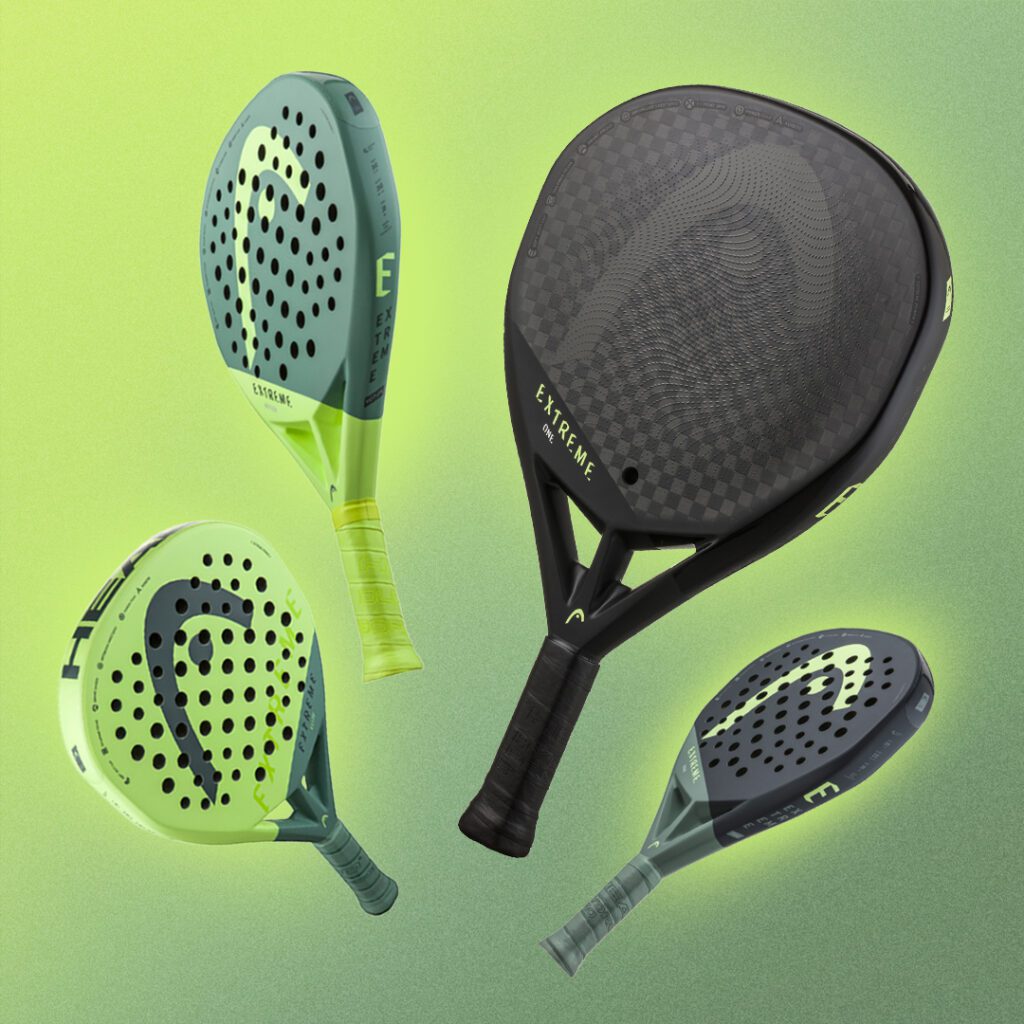 The answer to this, for Head, lay in the early origins of padel, where wooden rackets were the norm. To reduce their weight, especially for younger players, holes were drilled into the racket. This perforated design became the norm and FIP (the International Padel Federation) enshrined the need for holes (specified as an 'indeterminate' number) into its regulations. 
Head design engineers wanted to challenge this thinking because 'with regard to the direction of the sport and the possibilities you could have with any product' it made more sense to not weaken rackets by adding holes. 
The resultant Extreme One is, according to Head, twice as durable thanks to its design and 12K carbon solid hitting surface. 
It's not the first time an almost hole-less racket has been launched (Drop Shot did it  previously). However, with the massive growth of padel worldwide (around 25 million people now play) it could be the time for this design to win friends and influence people, particularly those players who have experienced rackets fracturing across the holes. 
What Head says about Extreme One:
Light & powerful: The unique construction reduces the weight of the racquet, allowing it to accelerate faster and have a quicker swing rate while retaining the stability of a heavier racquet. In addition, a flat surface with no holes reduces ball friction, resulting in greater speed of shots and increasing the sweet spot and maneuverability.
Greater durability: Holes weaken the hitting surface materials. Fewer holes mean the surface is up to twice as strong as conventionally drilled racquets, giving the racquet much improved fatigue life and reduced possibility of breakages.
Spin and stroke consistency: A flat and uniform surface gives better consistency of spin and stroke, for better ball control. Combined with the Extreme Spin technology, the ball is given even more efficient spin.
Aerodynamic: Counterintuitively, the absence of holes does not significantly increase air resistance in flat strokes at any speed when hitting the ball.