Padel gearing up for a momentous year
2023 is being heralded as the year that the Lawn Tennis Association (LTA) officially launches padel in this country. Of course, we all know that it's already landed, that courts are going up at a rate of knots and that the number of people discovering this amazing sport is growing exponentially. But how did we get here? Davina Hyde reports.
How did we get here? It's an interesting question that we know would receive different answers from different people but there are a few basics – and it's probably no surprise that a fair few of these revolve around Tom Murray, the LTA's Head of Padel (and no relation to Andy).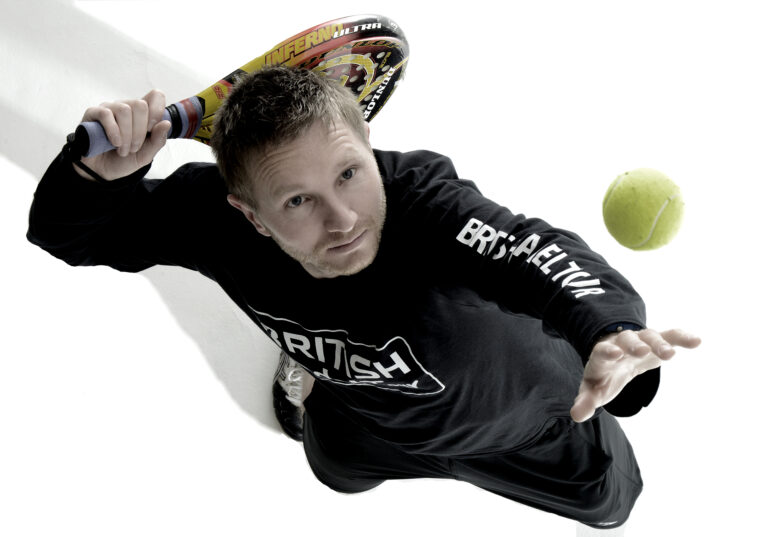 The former tennis pro may have been too young to have been involved when the original British Padel Federation was formed in 1992, but 10 years later he was instrumental in developing one of the UK's earliest facilities and the first in the capital; the Padel Club London opened four indoor courts in Canary Wharf and ran successfully until developers eyed up the prime real estate site for a new tower block.
Tom has come a long way since and his experience makes him only too aware of the many challenges to building a sport from scratch, securing its growth and future prospects. To streamline this process Tom and others 'adopted' the British Padel Federation, which had originally been established to facilitate a group of British expats in Spain entering the 1992 World Padel Championships.
Tom and his fellow padel players recognised that to grow the game in Britain it had to gain official recognition and inclusion on the list of approved sports for local authorities and councils. Moving forward with a formal organisation such as British Padel was key to achieving this. 
Advised initially by Sport England that there was a way to fast-track recognition for the sport, Tom began a journey to achieve official recognition for padel as a discipline of tennis, similar to a number of other tennis federations in Europe that had incorporated padel into their competition structure. This was achieved in 2019, with the LTA announcing it would integrate British Padel into its day-to-day operations. Ten months later the LTA became padel's national governing body after Sport England, Sport Scotland and Sport Wales officially recognised it as a discipline of tennis, something that Tom views as his career highlight to date.
This strategic move to bring padel under the umbrella of the LTA not only helped provide the sport with an immediate platform to facilitate growth, it also lined up with the LTA's vision to open up tennis and find new ways to grow participation in it.
"Growing a minority sport essentially from scratch in a country that loves its mainstream sports is a challenging task," said Tom. "To drive that we put in place a padel development plan to outline what needed to be done to help scale up the sport. This past year or so has all been about building the game with a primary focus on developing the overall infrastructure of the sport, the number of padel courts, a workforce, and a structured player pathway."
Tom described demand for courts in 2021 and 2022 as 'huge' but the pandemic interfered greatly with projected growth for 2021 and the often lengthy process to gain planning consent continues to frustrate. The LTA's target for 2022 was to add another 100 courts and, although growth has been solid, challenges have impacted progress.
With UK court numbers nudging 250 and a strong pipeline of court projects planned from a variety of developers (including returning padel to Canary Wharf), the LTA's stated aim of achieving 400 courts by the end of 2023 may be feasible through a mix of padel-only operators, private members' clubs, tennis clubs, leisure centres etc.
Looking ahead, Tom thinks 70% of padel courts are likely to be located in tennis venues, a trend already identified in Europe. The LTA is facilitating this growth within existing venues via interest-free loans of up to £250k. Since 2020 the LTA has assisted with funding for 21 covered courts and 15 outdoor courts. New sectors, however, will present new opportunities for the sport to grow.
"Building padel courts alongside existing tennis courts, creating new, modern facilities, helps in bringing new people into tennis, generating more interest and involvement in the sport as a whole," said Tom. "This is an approach we have put in place at the National Tennis Centre, allowing us to demonstrate how incorporating padel courts alongside tennis facilities can successfully work."
A club that has done this effectively is East Glos in Cheltenham. With lots of interest in padel, coupled with land availability, the club decided to convert one disused tennis court into three floodlit padel courts. The project cost £250,000, with 50% funded by the club and 50% secured via the LTA's interest-free Quick Access Loan Scheme. In the first four months after the padel courts opened the club welcomed more than 200 new members.
Another success story is The Triangle leisure centre in Mid Sussex. A padel court was installed in a prime spot overlooked by the café and first floor viewing balcony. To attract players, usage was free for centre members and moderately priced for non-members. It quickly became popular with adults, children and families. The £105,000 project was funded by Mid Sussex District Council.
Tom thinks venues in the UK have mainly added padel courts to attract new audiences, (where existing membership bases may be declining or too traditional in the sense they are not growing). European trends suggest padel is supporting the financial viability of tennis clubs, providing a new revenue stream and attracting new players and/or sustaining existing ones.